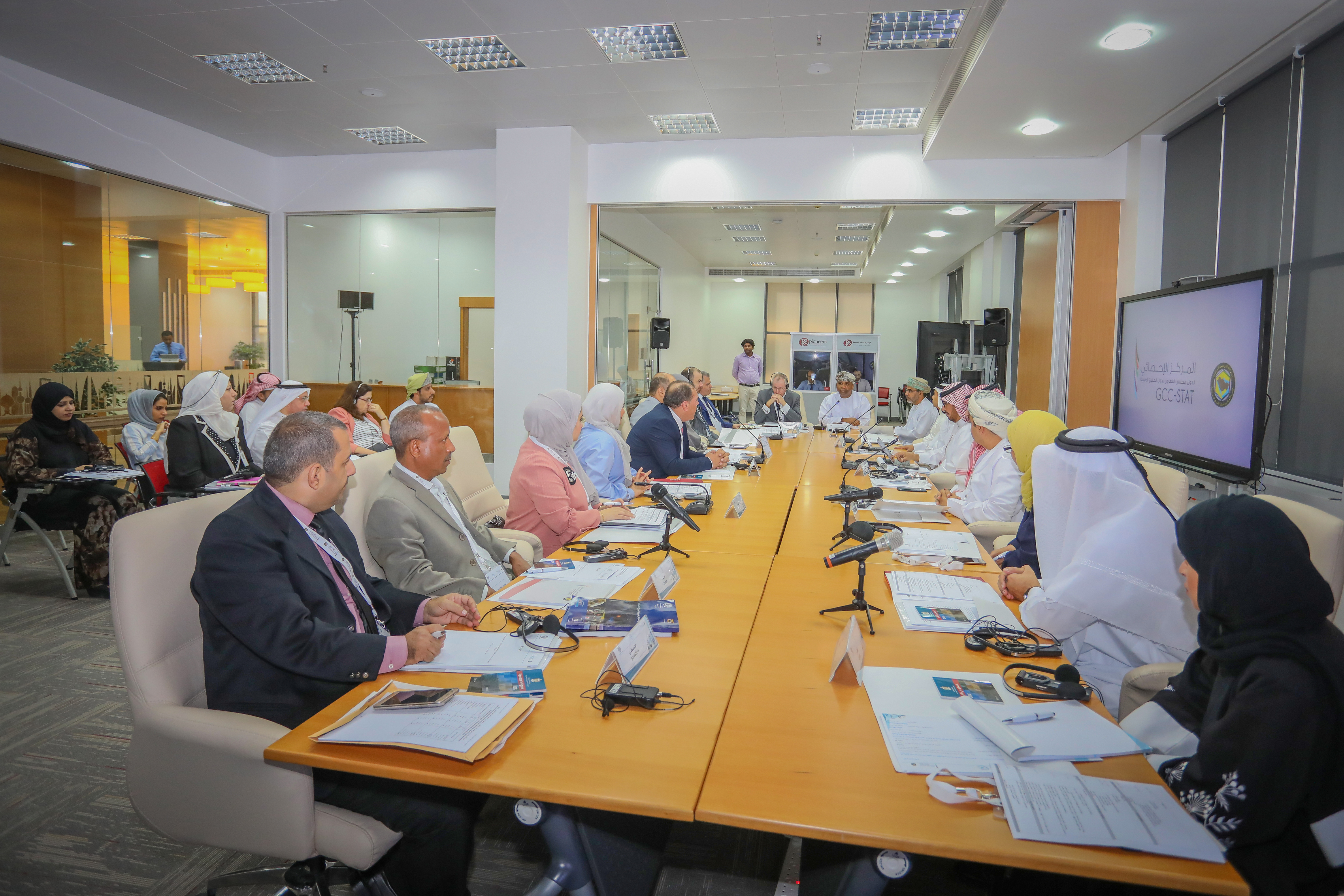 GCC-Stat Hosts the Preparatory Meeting of the International Conference of Labour Statisticians
The works of the Regional Preparatory Meeting for the 20th International Conference of Labour Statisticians were started Monday the 9th of October 2017 in Muscat, Oman. The meeting was attended by the International Labour Organization (ILO) and a number of Arab countries. The meeting, that lasted for three days, was hosted by the Statistical Center of the Gulf Cooperation Council for the Arab States of the Gulf (GCC-Stat) at its headquarters in Airport Heights. It aimed to discuss the technical issues with the countries of the region to ensure that the ILO's revised standards cover all types of work as well as the priorities of the labour force data in the region.
The meeting also covered the preparations for the 20th International Conference of Labour Statisticians. It worked on developing proposals for labour statistics framework and concepts related to labour relations, classification of work and employment status to be presented at the 20th International Conference in 2018.
The Director General of the Statistical Center of the Gulf Cooperation Council states, Saber bin Saeed Al-Harbi, stressed the importance of labour market statistics, especially in the light of the emphasis of the GCC countries on the recruitment of national manpower and the planning of human resources. The organization of the meeting, he elaborated, is in cooperation with the International Labour Organization to be informed of the latest international classifications and methodologies related to the regulation of the labour market. Al-Harbi pointed out that the ILO is engaged in a process of consultation with all the countries of the world with regard to the latest methodology, which is expected to be internationally approved and adopted in October 2018.
He added that the meeting included a discussion of the technical issues related to the revision of international classifications and methodologies, a review of the experiences of the countries of the region related to labour market surveys, related technical issues, and the development of a unified idea that pertains to the Arab countries with regard to the methodologies used in the statistical work; an idea, he hoped, that can be reflected in the internationally adopted new methodology.
For her part, the GCC-Stat methodologies and social statistics expert, Batool Obaid, stressed the GCC- Stat's interest in developing cooperation and coordination with international organizations like the ILO in order to adopt the latest labour market statistics, and apply the latest international standards and classifications. The meeting, she observed, provided an  opportunity to share experiences between the International Labour Organization (ILO) on the one hand and the GCC National Statistical Offices, and other Arab Statistical Centers on the other hand; the matter which, she noted, will have a positive effect on labour statistics in the Gulf region.