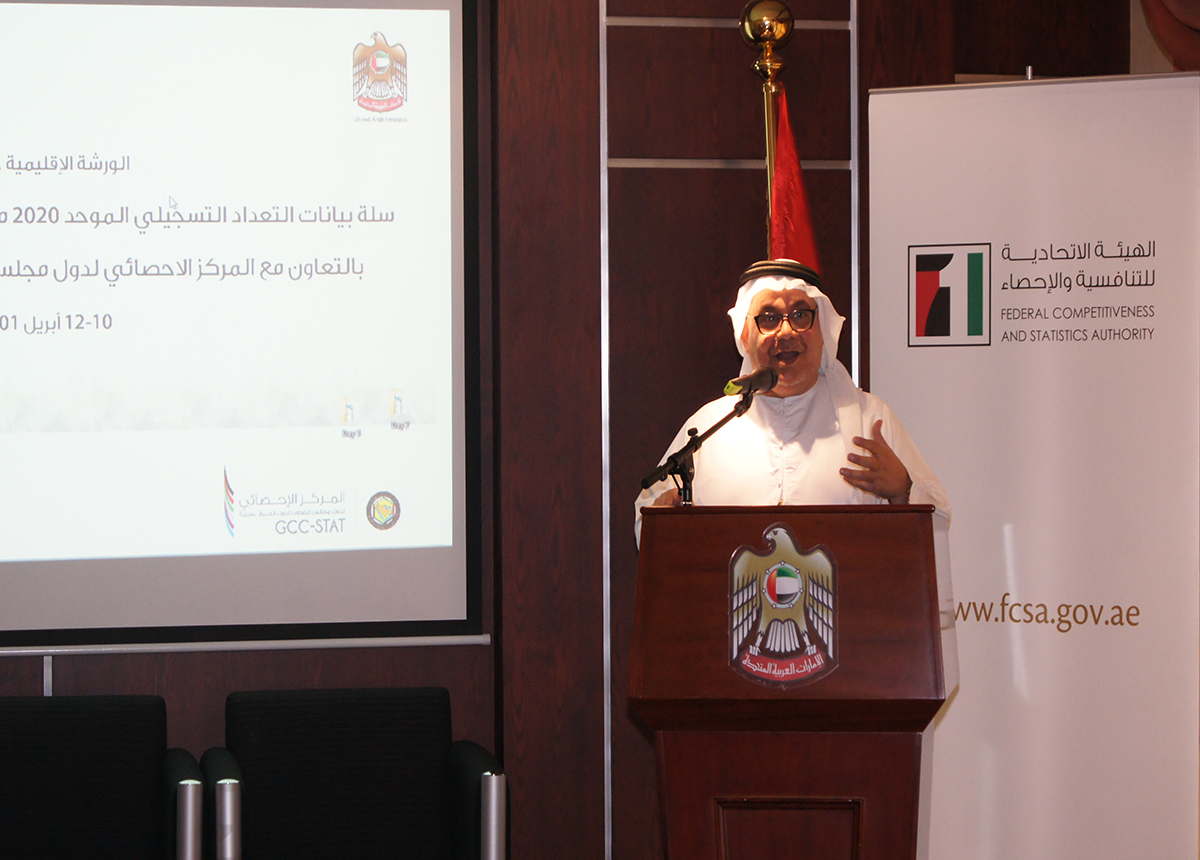 A Regional Workshop on the GCC Harmonized Administrative Register-based 2020 Census
 Aiming to inform directors and statisticians about the concepts and standards of the 2020 census round
 
Sunday the 10th of April, the Statistical Center of the Gulf Cooperation Council (GCC-Stat), in collaboration with the Federal Competitiveness and Statistics Authority (FCSA), organized a regional workshop on the data basket of the 2020 administrative register-based census in the Emirati capital Abu Dhabi  that lasted till Tuesday the 12th of April 2016.
The workshop aims to provide census managers and officials in the Gulf national statistical centers with the basic concepts of the international standards and recommendations of the 2020 census round in order to agree on a GCC standardized data basket, and to understand the changes in the census concepts and requirements included in revision (3) of the Principles and Recommendations for Population and Housing Censuses the 2020 Round, especially the conceptual basis for the usual resident count and how to apply it, as well as the new labour force concepts. Moreover, the workshop focuses on achieving a detailed understanding of the proposed data basket for the GCC Harmonized Administrative Register-based Census (themes – definitions – classifications), and to provide an opportunity to exchange ideas and expertise about county specific issues. It is expected that the attendees will acquire an adequate understanding of the discussed topics, and will enable them to reach an agreement about the proposed data basket during the Administrative Register-based Census Committee meeting held immediately after the workshop. Workshop participants will also acquire knowledge of the methods used to evaluate administrative data and other sources for the 2020 census.
The GCC countries rely on the 2020 Administrative Register-based Census project which will be implemented with the support of the GCC-Stat. The project aims to use administrative sources to conduct a harmonized population census in 2020. The GCC-Stat supports the project through the preparation of manuals of guidance, and the organization of workshops, coordination meetings and training courses conducted in cooperation with national statistical centers in the GCC countries as well as international bodies and organizations specialized in this field of statistics.